What are the attributes of a great sales team? Great sales teams are diverse, with individual team members bringing unique skill sets, experience levels and perspectives, all coming together to achieve their common goal, of providing the  highest level of service to the customer. The sales team at WIKUS Saw is exactly  that, a well-rounded group of long time and new team members, with varying  approaches and talents, focused on attaining their goal as a team. In this edition of our Newsletter, we would like to highlight a veteran member of the WIKUS Saw  sales team, Larry Forand.
Beginning his journey with WIKUS 16 years ago, Larry has been a valued member of the WIKUS Saw sales team. With his experience working in the military and a  background in Engineering, Larry had a good base when he entered the industrial  cutting industry 38 years ago. For a brief time, Larry worked in the southeastern  US, but found his way back to the north and has been there for the last 25 years. During the last 16 years, Larry has served as the WIKUS Saw Regional Sales Manager for the North/Middle Eastern part of the US, currently working in the  states of Michigan, Ohio, and West Virginia.
Why has Larry made WIKUS his home for the last 16 years? Larry shares,  WIKUS is a family-owned company, they are interested in the person, which is a rarity today. WIKUS has a vision for the future. WIKUS' knowledge and emphasis on quality and service are second to none!"
Any veteran on a team leads with their experience and sets the example for those coming up behind them. Larry's experience and knowledge in the sawing industry speaks for itself. Larry said, "I used to be the guy that learned from the senior members of the team, and now I'm the senior member!" Embracing this role, of imparting knowledge, Larry feels it is very important to share what he has learned with the group coming after him. 
With his technical background, Larry brings an additional value to the WIKUS team and his  customers. With his many years of experience, Larry is a valuable resource for questions on how to run a blade and what blade works best in a particular application. He is most definitely a go-to person on the technical side of things!
When asked about the customers in his territory, Larry proudly said, "I thoroughly enjoy working with all my customers! I feel like I have the best distributors in the country! Every one of them are focused on saw blades!"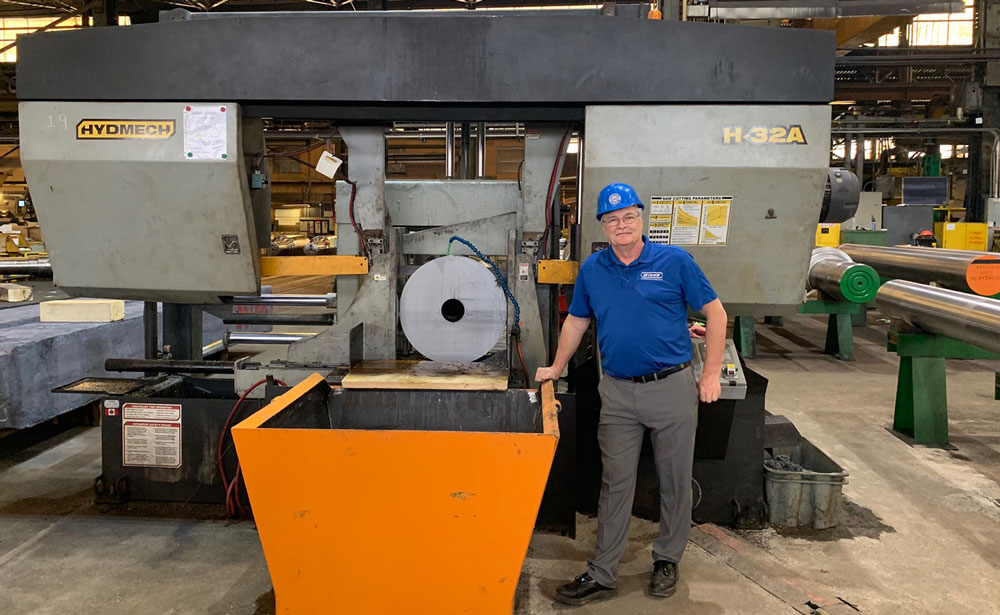 In speaking about how he approaches sales and working with customers, Larry shared that he tries to offer something to everyone, by listening to each person's individual needs and working with them to achieve their goal. Larry appreciates that each customer is unique. Larry emphasized, "Don't come in telling customers what to do, hear them out and work together with them."
When working with customers, Larry believes in presenting an upbeat and positive outlook. Larry says, "There are definitely times to be serious, but it's important to sprinkle in a bit of fun." In his signature "Larry chuckle", he shares that "Some of the customers I work with would probably say that I'm a nut! But at the same time, I think the customers appreciate the knowledge I bring, and we enjoy working together."
When Larry is not visiting his customers or rolling up his sleeves testing a blade, he relaxes in his personal time, hunting and fishing, or enjoying time spent with his wife Nancy. Larry describes himself and Nancy as "outdoors people", who take advantage of their cabin in the mountains whenever they have the time.
Every great team needs its veterans, those who provide stability and experience to the team. Larry is that veteran on the WIKUS Saw sales team, leading with his experience and passion, setting the example and being a resource that the rest of the team can count on. We appreciate Larry's contributions to the team!