Who is the WIKUS Saw Technical Team and what do they offer? Our technical team provides a key value add for WIKUS customers, with their technical knowledge and experience in band saw blade cutting. The WIKUS technical team is a blend of veterans, who have many years of experience, along with new members, who bring a fresh perspective, with an eagerness to learn and apply their skills. Please allow us to introduce, Randy Goss, the newest member of the WIKUS Saw technical team.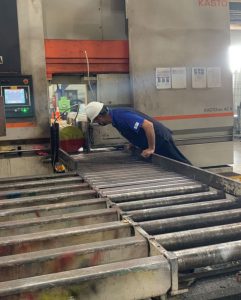 Before joining the WIKUS team in March 2021, Randy's experience was largely in the automotive industry. Working on cars and trucks was originally a hobby for Randy, which eventually turned into a career. As a fan of racing, Randy was fortunate to have the opportunity to work in NASCAR, during his automotive career.
Why the switch to WIKUS and band saw blades for Randy? Randy was looking for a place where he could be part of a team, like his days working in NASCAR. He wanted an opportunity to expand his knowledge base and challenge himself in a new industry. WIKUS was the right fit for Randy! Starting out, Randy found the biggest challenge was learning the vast WIKUS product portfolio. "I had some past experience with band saws, so that was an advantage for me, but getting up to speed on the WIKUS products, that was a challenge."
In asking Randy what he has found most rewarding, thus far, in his time at WIKUS, he shared, "I love a challenge and learning new things. And every day, I learn something new at WIKUS!"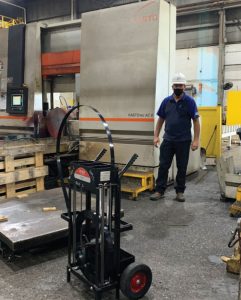 In addition to being able to grow his knowledge, Randy was impressed with the overall WIKUS team. Randy expressed, "The staff at WIKUS is exceptional! Every person on the team is extremely helpful and available anytime to reach out to with questions. I love the family atmosphere and comradery!" Randy commented how important the WIKUS environment was to him, as a new team member and his transition into this new role at WIKUS. With one year of experience under his belt, Randy reflected on what he finds most enjoyable in his new role at WIKUS. "Working alongside our distribution partners, and being able to provide solutions to end users for their cutting needs. Working closely with saw operators, showing them the tools WIKUS offers to help them be successful. Spending that time, to listen and to educate, goes a long way. It is such a great feeling, knowing you have truly helped someone!"
When Randy is not assisting customers, he enjoys spending time with his wife and three sons. Some of his favorite activities include woodworking, biking, and kayaking. Of course, Randy is still an avid racing fan, so he enjoys going to the races, together with his wife.
A diverse team is the best team. WIKUS is always looking for the opportunity to further develop and diversify our teams. We are excited that Randy has joined our technical team and we look forward to his future contributions to the organization. WIKUS congratulates Randy on his first year and wishes him many more years of success in his role!