Content marketing is a marketing technique of creating and distributing valuable, relevant and consistent content to attract and acquire a clearly defined audience – with the objective of driving profitable customer action (source: contentmarketinginsitute.com). The key word is "valuable", it defines if people want to consume it or rather avoid it.
We asked ourselves, why content marketing?
The question "Why is content marketing important to our business?" might be more important than understanding what content marketing actually is. The answer requires the understanding of the four steps of the buying cycle:
Awareness: Prior to awareness a user may have a need, but he might not be aware there is a solution to his tooling problem.
Research: Once a user is aware, that there is a solution to their application problem, they will research further to educate themselves.
Consideration: The user is comparing tools, from various manufacturers to ensure that the solution will provide a high quality tool for a fair price.
Buy: The user makes the final decision and purchases the tool.
The traditional advertising and marketing are great when it comes to step 3 and 4. Content marketing taps into the first two steps of the buying process. It is raising awareness of a solution and educating the customer about the tool they may have never considered before.
The goal for us, is to offer value in the content marketing to as many as possible in our target audience. This technique aims to inform our industry of the value of our WIKUS brand, our products and our service. There are many types of content marketing, for instance, customer references, tips and tricks, product videos and training or knowledge transfer videos, that you can find on our YouTube channel. As an expert in the metal cutting industry, we also need to convey that to those that do not know that we have the solution. To ensure that we are generating trust in our products, that they will meet your requirements and offer our customers real added value. We feel that it is especially important in the digital field to provide information with added value for the new and existing customer. WIKUS Saw Technology uses various channels, to share our content and engage the audience about our solutions as well as reaffirm loyalty among existing customers.
Website with added value:
While creating and revamping our new website, the focus was further expanded from classic product presentations, to create content that offers the visitor added value and allows them to utilize the knowledge to navigate through their cutting challenges. For example, the site visitor will find industrial segment specific solutions. Solutions that we assist the user to further educate oneself about products that are best suited for their specific application. Furthermore guides them how to utilize our band saw blades in the most efficient way.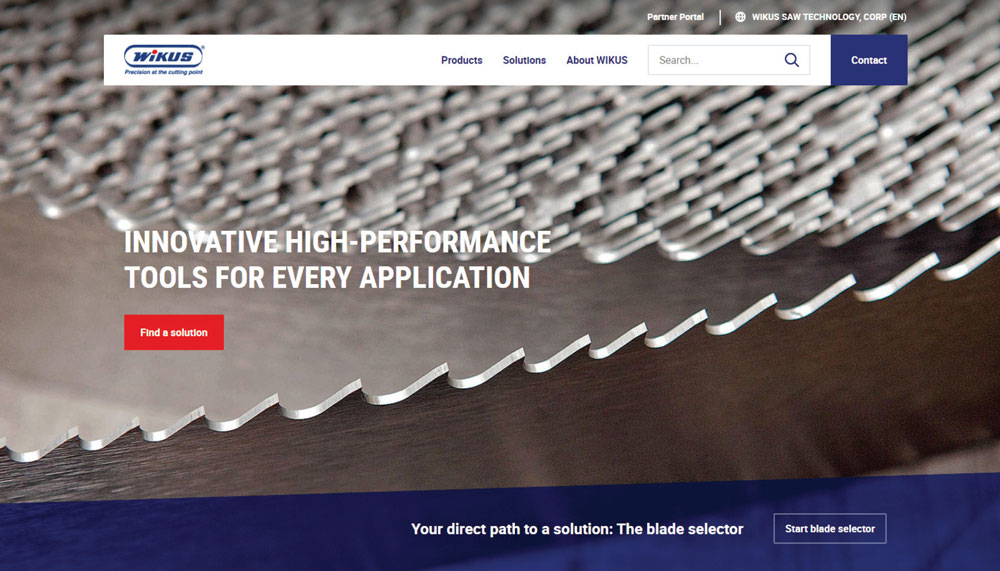 Reference Customers:
Customer references are one of the leading instruments that verify performance capability of our products and attest to the superior service. If you, dear reader and user, speak on behalf of WIKUS, it is even more credible than if we do so ourselves. For some time now we have published articles, customer references, about various cutting applications from numerous industry segments around the world. These are published on our website, in our newsletters and social media channels. We want YOUR SUCCESS STORIES! Please contact us for a joint editorial, social media post or our own quarterly issue of this newsletter.
Specialist articles in trade journals:
Traditional print and their digital versions of trade magazines allow us to reach specific audiences with topics of their liking. Trade magazines still play a large role for our target groups. The topics vary from product information through to application tips. Our participation allows us to further solidify the cooperation and partnership with publishing houses, that in turn, serve as further multipliers. You can find us in magazines like MODERN METALS, FF Journal, FABRICATING & METALWORKING, PALLET ENTERPRISE and others. Please contact us if you are interested in promoting your success story together with us, in any of these national magazines.

Social Media:
We proactively utilize LinkedIn to reach target audiences and encourage a partnership with us. On this platform we use a content marketing approach, by publishing content that was created from our website, trade magazines, local trade fairs, distributor open houses, training seminars, etc. Additionally, we proactively utilize platforms as Facebook, Twitter, YouTube and recently we joined the Instagram community to create awareness. Please check out our channels under the following links
https://www.facebook.com/WikusSawTechnology
https://www.linkedin.com/company/wikus-saw-technology-corp./
https://www.youtube.com/channel/UC2LL4QHGJjR57-IrHF32gag/featured
https://twitter.com/wikussaw
https://www.instagram.com/wikussawtech/

Your participation is always encouraged, and we would love to include you in our efforts to promote the WIKUS brand across your customer base and engage your target accounts. Your engagement and feedback are highly valued.
This article is intended to provide with you a few highlights of content marketing, as well as point out the many other marketing tools that WIKUS Saw has to offer such as: PARAMASTER 4.0 app, Prezi company presentation, training courses, and more. At WIKUS, we have been working on digital content that focuses on cutting tool needs. To supply you, dear friends and customers with relevant information, and ask YOU to participate in our efforts. Please contact us at sales@wikussawtech.com or one of our Regional Sales Manager to learn more about this opportunity.