Band sawing techniques for titanium are no more difficult than those for other high performance metals; for instance the austenitic stainless steels. Reasonable production rates and excellent surface finish are readily attainable on sawed parts, provided some unique characteristics of titanium are taken into account. These characteristics are:
The unusual chip-forming tendency and low thermal conductivity of titanium tends to cause a build-up of heat on the edge and face of cutting tools.
The reactivity of titanium with cutting tools contributes to seizing, galling, abrasion and pick up on cutting edges and faces.
The low elastic modulus of titanium permits greater deflections of work pieces and, therefore, may require proper backup.
Machining conditions can be selected which minimize or circumvent the adverse effects of these characteristics of titanium, thereby allowing good tool life at acceptable production rates.
Observation of the following six guidelines will aid in successfully machining titanium:
USE LOW CUTTING SPEEDS
Tool tip temperature is strongly affected by cutting speed. A low cutting speed helps to minimize tool edge temperature and maximize tool life. Lower speeds are required for titanium alloys such as Ti-6Al-4V than for unalloyed titanium.
MAINTAIN HIGH FEED RATES AND CONSISTANT DECENT RATES
Tool temperature is affected less by feed rate than by speed. Therefore, the highest rate of feed consistent with good practice should be used. The depth of cut should be greater than the work hardened layer resulting from the previous cut.
USE A GENEROUS QUANTITY OF CUTTING FLUID
The coolant carries away heat in addition to washing away chips and reducing cutting forces, thereby improving tool life.
MAINTAIN SHARP TOOLS
Tool wear results in build-up of metal on cutting edges and causes poor surface finish, tearing and deflection of the work piece.
NEVER STOP FEEDING WHILE TOOL AND WORK ARE IN MOVING CONTACT
Permitting a blade to dwell in moving contact with titanium causes work hardening and promotes smearing, galling and seizing, which may lead to total tool breakdown.
USE RIGID SETUPS
Rigidity of the blade (proper blade tension) and workpiece (secure clamping) ensures a controlled depth of cut and reduce vibration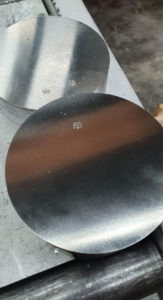 TOOL MATERIALS
Cutting tools for titanium require abrasion resistance and adequate hot hardness. Carbide tools (such as Grades C-2 and C- 3), where feasible, will optimize production rates. The general-purpose high speed tool steels (such as Grades M1, M2, M7, and M10) are often suitable for machining titanium. However, best results are generally obtained with more highly alloyed grades (such as M42, M51 and X3000 series).
CUTTING FLUIDS
Correct use of coolants during sawing operations on titanium will greatly increase the blades tool life. Chemically active cutting fluids transfer heat efficiently and reduce cutting forces between tooth tip and workpiece. The result is prolonged blade life. Large quantities of cutting fluid are needed to keep the titanium workpiece and the tooth tips cool during the sawing operation. Water base fluids are more efficient than oils. A weak solution of rust inhibitor and/ or water soluble oil (5 to 10 percent) is the most practical fluid for bandsawing operations running higher cutting speeds. Slow speed and complex operations may require chlorinated or sulfurized oils to minimize frictional forces and reduce the galling and seizing tendency of titanium. Best blade life in intermediate speed operations may be achieved by utilizing a good coolant containing a chemically active additive.