In April of 2005, WIKUS Saw Technology was in need of some new, quality distribution within the Detroit, Michigan marketplace. Obtaining this distribution was a new endeavor for a recently hired WIKUS Regional Sales Manager, Mr. Larry Forand, who was tasked to help move WIKUS forward as a top supplier for band saw blades in the Upper Midwest Territory (Michigan, Ohio, W. PA & West Virginia).
At this point in time, WIKUS Saw Technology, founded in the US in 1999, was basically starting at the ground floor in order to accomplish our new growth goals and objectives. After some diligent research, a number of distribution possibilities were considered for the Michigan area, with Detroit Band Saw being at the top of that list. Detroit Band Saw has always enjoyed a great reputation for being an excellent source of premium bandsaw blades. However, they also are recognized as providing some of the best technical expertise in the industry. This new endeavor was going to require that we were prepared to show Detroit Band Saw exactly what WIKUS Saw Technology could bring to the party. At this time, the ball was certainly in our court.
Larry first contacted Detroit Band Saw's Inside Sales Manager, Brittany Koenig, for an appointment in order to gauge their interest. That initial meeting provided WIKUS with an opportunity to present our comprehensive, high-value product portfolio, along with explaining more about our outstanding service and delivery capabilities. Right from the start, this relationship seemed to be a very good fit for both organizations. At this particular time, obtaining superior product materials and prompt deliveries were the priority of the day, with market shortages being felt from other manufacturers across the market. Fortunately, over a period of time, WIKUS was able to help resolve many of these critical issues for Detroit Band Saw and those results got the prompt attention of Mr. Joe Goudeseune, President and Owner of Detroit Band Saw.
After finding such a great opportunity to mutually grow, it was now time for WIKUS to show Detroit Band Saw how we can perform as a true partner. As the relationship began to develop over the next several weeks, Joe Goudeseune and Larry started making sales calls in the area and before long, they were winning business in new accounts all over the market.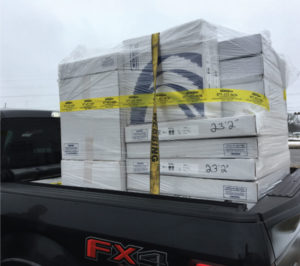 After a few months, with some recent success and confidence under their belts, they started moving onto larger and more meaningful accounts, which helped the partnership to continue to grow at a more rapid pace. These first few victories gave them the utmost confidence and pride in understanding that when  combining our strengths together, we had the absolute best tools available to take on more and more business from our competitors.
Detroit Band Saw not only sells premium band saw blades, but they also provide and sell used and rebuilt machinery, along with many other premier maintenance services.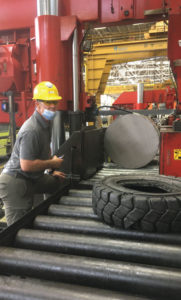 Detroit Band Saw also does an outstanding job with their in-house welding  process, which is one of the most important aspects of the business, as the weld performance is critical in providing the best results. With their consistent  commitment to quality, Detroit Band Saw prides itself on utilizing state-of-the-art welding equipment. This enables them to provide and deliver premium saw blades that consistently perform at the highest levels, day after day.
When you combine Detroit Band Saw's superior welding and service capabilities, along with WIKUS's high-quality product materials, you will quickly discover that together, we have created one of the most reliable and productive partnerships in today's sawing marketplace. These specific attributes and traits have continued to keep Detroit Band Saw at the forefront as a true distribution leader in the  premium saw industry.
Detroit Band Saw has a very simple approach to being the best at what they do. They simply deliver on what they promise to their customers. Delivering great  products at a fair and reasonable price, all while providing their customers with  the attention and service they deserve, is the cornerstone to their success. This has been and always will be their ultimate goal.