During the month of June our Sales and Service Team conducted its 2nd sales meeting at the Global WIKUS headquarters in Spangenberg, Germany. We made the journey from all parts of the USA and Mexico, to see, feel and experience WIKUS in its newest and present state.

We were hosted by Michael Moeller the CEO of the Global organization and met with many other members of the WIKUS Germany team during the held seminars, meetings and events. The significance of the trip was that, it provided for all a chance to acquaint or reacquaint themselves with WIKUS Spangenberg and experience our newest manufacturing processes and learn about the latest product & cutting applications updates.
One of the first impressions that hit us was as we were driving into Spangenberg, an impressive saw blade like structure that drew our focus to new office building WI.com. In some way we all were taken aback at the sight of the new WIKUS. It did not stop at the external impression.
As we toured the facility one could feel the anticipation and excitement building to see the next new thing.
For us to fully take in, tune our senses and experience WIKUS in Germany, we spent five days in Spangenberg, during which, we held our national sales and technical meeting in the newly designed office world. The agenda included many points, some that stood out more were: territory reviews, technical training, sales goals, strategies, R&D, new product & applications, quality, safety and the outlook for the 2nd half of 2019. The meetings were tactical and well organized to have a healthy and in-depth overview of our present state in North America, as well as it allowed for our European counterparts to participate in the exchanges. We allocated great amount of time to be able to have direct conversations in the departments and further intensified these conversations in our meetings throughout the week. All this to gain more knowledge, understanding and proficiency in aspects concerning: quality, production process, R&D, and capabilities. Important familiarity and know-how that the WIKUS team brings back to you, dear reader.
The seamless seminars, presentations, in the WIKUS Global environment, resulted in team comradery and team building; and furthermore, solidified a sense of belonging to the WIKUS family.
As we toured through the facility every team member was amazed by the present state of the WIKUS facility, and certainly proud how fast these advances have been made. The members that have been there before, certainly felt that WIKUS is a company in constant motion and the ones that were there the first time, saw a state of the art facility that is on level with the high tech giants of Silicon Valley. The new inline production facility left us with confi rmation as to how this high automatization process contributes to quality, continuity, precision and efficiency.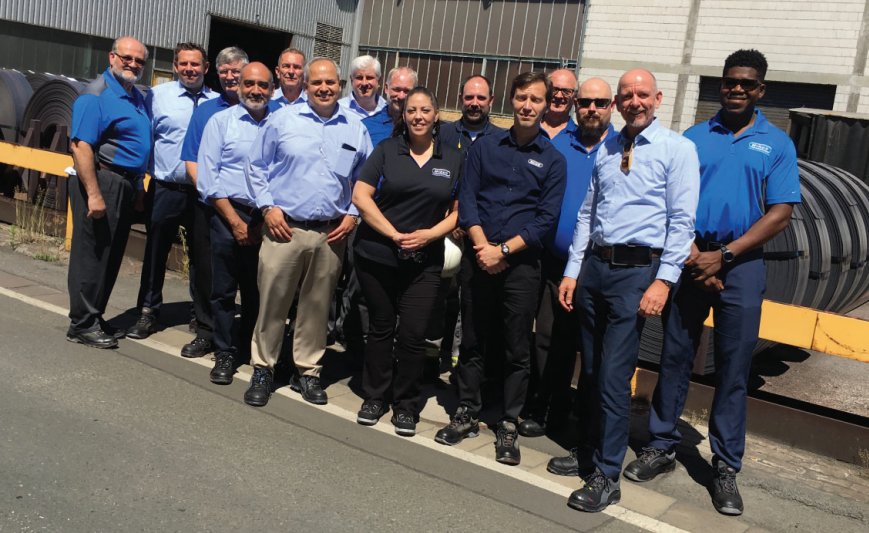 The entire experience has furthered our product and technical knowledge, it bolstered team spirit, and confirmed what we at WIKUS stand for. Along with underlining and upholding our compelling product selection, added value, efforts, innovation and intensity in the North American market. Furthermore strengthening our strategy, refining efficiency and presence, further increasing our growth goals and aspirations for the US and Mexico.
Our trip was complimented with the opportunity to visit and see a European customer, Buderus Edelstahl in Wetzlar. The first hand insight to one of Europe's largest high-quality special steel manufacturing was remarkable. Even though we were in Germany during an unusual heat wave, we were able to see the process in its entirety from melting to the end product. All manufacturing processes take place at this facility. Interesting for us was that we could see production of specialty metals and the cutting of these metals with various WIKUS blades. All was trimmed to efficiency and flexibility. Various team members found many similarities and differences with our North American customers.
In finale to our work week, we rounded off our weekend with a visit to the capital. A short cultural insight to Berlin, its history, sights, culinary ins and outs, architecture, division into East/ West and unification, and its progression to the World city that it is today.
We spent many beautiful and memorable hours together as a team, even topping it off with a bike tour on our final day in Berlin. Dear reader, if you are interest in further details do ask your commercial or technical representative.