In a volatile market environment, companies with the courage to embrace change, with close partnerships and customer-oriented solutions remain successful – this was impressively demonstrated by WIKUS at their corporate headquarters and factory, at WIforum 2022 conference. A conference designed to foster exchanges beyond the band saw.
About 70 European customers from various industries came to the WIKUS headquarters in Spangenberg on June 23 to exchange views on the current situation during the WIforum 2022 at WIKUS. Attendees had the opportunity to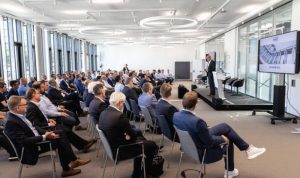 familiarize themselves, how crises can enable sustainable growth and how the symbiosis of product, partnership, service, and future spirit can help to move forward with strengthened optimism. Very present topics, as one in five metalworking companies is economically at risk as a result of the tense global situation – according to a survey by Gesamtmetall (German Survey).
The explosion in energy and raw material prices are causing problems for almost all companies within our customer base. The consequences: less profit and loss of competitiveness. Furthermore, the changes during these times require investments, which are often cut back. These investments, together with good partnerships and a positive forward-looking spirit, are important in driving necessary change.
Turning the crisis into an opportunity: a look into the future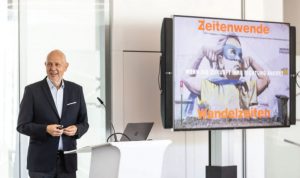 The importance of an optimistic view of the future was explained by trend and futurologist Matthias Horx right at the beginning of the industry meeting in his keynote speech, when he called for a different approach to the new reality: global crises are causing change that will not only have negative effects. Globalization is currently faltering, but at the same time the ecological turnaround and the re-localization of supply chains are accelerating. These facts offer opportunities, so change should be seen not just as a constraint but as a positive development, Horx said in his presentation. Real forces of change would not be released by threats, but by a common visionary mindset. This positive "future spirit" ultimately helps to sharpen the focus on one's own change – and thus to grow from crises.
Panel dialogue: Success with customer focus and solidarity
The will to make positive changes is particularly important at present, as almost all German companies are forced to make short-term adjustments to strategic decisions and supplier portfolios, according to the AHK World Business Outlook2. "Our credo at WIKUS is to plan ahead, produce efficiently and develop in a targeted manner. At the same time, we want to be able to react agilely and quickly to unforeseeable events," confessed Dr. tech. Jörg H. Kullmann, Managing Partner and Chairman of the Board of Management, Technology and Manufacturing Division, during the Panel dialogue.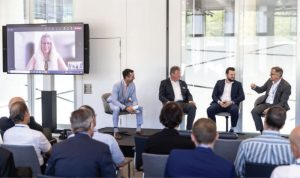 In addition, Dr. Kullmann emphasized the positive orientation of Europe's largest band saw manufacturer with regard to customer benefits: "We support our customers with high-quality sawing solutions to effectively and efficiently cut the diverse range of materials. We are driven by the question of which materials will play a role in the future and how we can cut them with WIKUS products. Sawing must be possible even faster, more reliably and with even more durable tools in order to remain fit for the future. We are always evolving as an innovation driver – hand in hand with the will to invest and growth opportunities, with a focus on sustainability and grandfathering ability."
During the talk, Dr. Kullmann discussed with Vanessa Weber, CEO of Werkzeug Weber GmbH & Co. KG, Sebastian Wichert, Head of Metal & Metal Processing at Horváth AG, and Dr. Rainer Waldschmidt, Managing Director of Hessen Trade & Invest GmbH, how this focus on customers actually works in practice and what measures other market participants and industry colleagues are taking to operate in volatile markets. Together they came to the conclusion that, in addition to a focus on service and customers, the scope of the current crises could only be mastered by acting in partnership and finding innovative solutions.
Dr. Waldschmidt added: "The aim is to secure optimum conditions for small and medium-sized enterprises in particular in Hessen as a business and technology location in the long term. In view of the increasingly complex global challenges, this is a feat that we can only accomplish together in the network and for which meetings like WIforum 2022 are important."
Practical workshop knowledge on volatile markets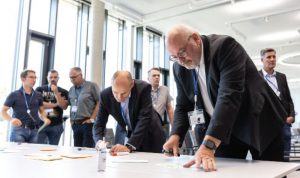 The importance of partnership, strategic cooperation and constant knowledge exchange for agility and resilience in the global market became clear in the workshop with the three WIKUS managing directors. In practical presentations based on experience, they explained, among other things, how to navigate between price increases and cost pressures. Long-term forecasts of steel prices are currently difficult, as producers also operate under changing conditions. The rule is: those who build up specialized knowledge early on and secure supply chains through diversity have an advantage.
"At WIKUS, we are convinced that we can only solve challenges of high price volatility in partnership. That's why we exchange ideas closely with customers and suppliers, and WIforum 2022 offers an ideal platform for this," explained Jörg Utech, Co CEO responsible for the Finance and Resources division at WIKUS, adding: "As a manufacturer, we have initiated many things from which we are currently benefiting: Thanks to a better organization, we can react faster to strong fluctuations in demand. To this end, we are continuously investing at our production site in Spangenberg and optimizing our processes, the best example being inline production for saw band production."
How manufacturing can be adapted to meet requirements and the role played by partnerships between customers and tool manufacturers in positioning their own companies for the future were also topics discussed during the workshop.
A look behind the scenes: Innovations and efficient saw solutions
A look behind the scenes – as part of a guided tour – was a must at the industry get-together. Under the motto "Highest cutting performance and productivity in sawing", the participants were given insights into the innovative manufacturing world and the WIKUS sawing center and were thus able to take home a lot of practical know-how.
Unique live event sets positive impulses
Michael Möller, CEO responsible for the Business Group and all Sales Divisions, summed up the day very precisely: "Major upheavals require the courage to change. The current world situation puts all manufacturing companies under high pressure to adapt. WIKUS reacted early on and set the course for even greater customer proximity with a growth strategy and new sales structure. As we have heard today, many other companies have done the same. The exchange with our customers at WIforum 2022 confirmed that we are collectively on the road to success. We are pleased that we, as partners, were able to create a platform for knowledge exchange and networking with this unique live meeting, in addition to our innovative technologies and services oriented to customer benefits. The response was so good that we want to continue to set many positive impulses with such industry events in the future."