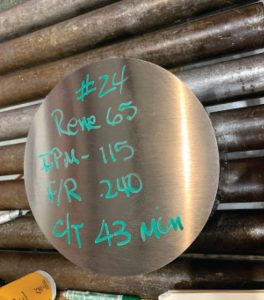 A recent application we were involved with gave WIKUS the opportunity to demonstrate the true performance and longevity of our carbide product when cutting a mix of nickel base alloys such as:
INCONEL® alloy 718 (UNS N07718/W.Nr. 2.4668) a high-strength, corrosion-resistant nickel chromium material INCOLOY® alloy 903 (UNS N19903) an age-hardened nickel-iron-cobalt alloy RENE 65® a nickel base super alloy WASPALOY® (W.Nr. 2.4654) an age hardening nickel base super alloy The materials ranged between 6" and 14" diameters and were being cut on several Behringer HBM 540A machines.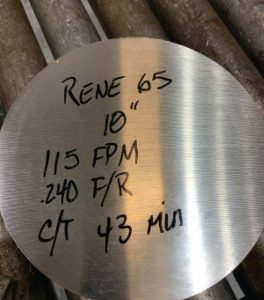 The goal with cutting the 10" Rene 65 material was to increase current blade life which was an average of 1,492 Sq" (19 cuts). Cutting at equal removal rates and working closely with the operators to establish the desired speeds and feeds, FUTURA® 718 was able to achieve 2,513 Sq" (32 cuts) consistently. An improvement of 68% more life.
When tasked with cutting a variety of sizes (6"-14") and material types on the machines the goal again was to exceed the current life of 2,500 Sq". The FUTURA 718 did extremely well with recorded data of both 3,628 Sq" and 5,247 Sq" of blade life. An increased blade life of 45% and 109% respectively.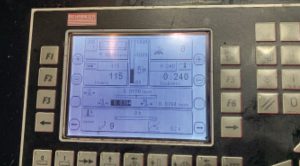 After a brief break-in period the parameters were set to cut 10" Rene 65 at a material removal rate of 1.8 Sq" per minute and our mix of Inconel's cutting at 2.3 -2.5 Sq" per minute removal.