In these times of shortages in the labor market, businesses are facing challenges with their number one resource, their employees. Fortunate are those businesses that had established a team of dedicated people, with a wealth of experience.
At WIKUS, our greatest resource is our team! Our success is only possible through the efforts of each member of our team. Rarely seen in other organizations, the average tenure of a WIKUS employee is ten years. At the center of the WIKUS team is an incredibly solid core, fondly referred to as the veterans, each having 15-20 years of experience with WIKUS.
Allow us to introduce one of these veterans, Raul Hernandez.
Raul, also known to some as "Ricky", works on the production team at the Addison facility. Having spent 18 years producing WIKUS blades, Raul is one of the most knowledgeable members of the production team. Raul's experience is his "source of knowledge".
Starting with WIKUS in the very beginning, Raul fondly remembers the early days, when there was a total of 4 people working at the facility. Bringing along his previous experience, having worked for another company in the industry, Raul was a key contributor right from the start.
When asked, "why WIKUS?", Raul responded that once he started working at WIKUS he was impressed with the welcoming environment and overall feel of working at WIKUS. Raul talked about lunches in the early days, where "everyone ate together, even the President of the company". After 18 years, the WIKUS vibe has only grown stronger for Raul, saying, "I feel comfortable here, WIKUS is like a home".
While Raul has worked in all the different areas of the production department, he provides the most value to the team with his expertise in welding and finishing of the blades. Raul is a top performer regarding number of blades he can produce, but even more importantly, he possesses the highest quality. For Raul, it's not quality over quantity, because he has them both!
From keeping his welding machine impeccable to studying the annealing of the weld to finishing the blade, Raul is attentive to every detail involved in producing a quality blade. In Raul's words, "It has to be perfect!"
As WIKUS works to build a great team, participation from the veterans is imperative, to transfer the knowledge they have acquired in their many years of experience to the new team members. As our welding and finishing trainer, Raul is instrumental in bringing new people along.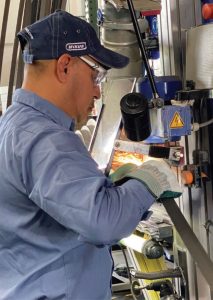 Because Raul truly cares about what he does, WIKUS can trust that he will impart the importance of quality on those he trains. What advice does Raul give to new people? He tells them, "Watch closely what I do, learn every detail, but then take what you learn and make it your own. Don't do a good job only when you are training, do the same quality work when you are on your own and no one is watching you" In reminiscing over his career at WIKUS, Raul has fun memories of team outings, company celebrations and milestones he has personally achieved. Raul is happy to be part of such a wonderful team, where everyone supports and helps one another. Most of all, he is thankful for the opportunity to have been along for the ride, to witness WIKUS' growth in the US, from the very beginning to now!
Just like WIKUS, Raul has also changed over the years. In the early years Raul could work, play some sports over his lunch time, and go straight back to work and not miss a beat. He joked, "now I just want to sit and rest at lunch!"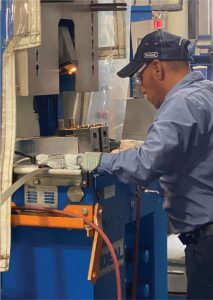 But don't let him fool you, Raul's team members admire his energy level. When he's not working at his WIKUS home, Raul enjoys many outdoor activities, such as biking and camping. He also likes going the gym and keeping active. Apparently, the only time Raul sits, and rests is at lunch!
If "experience is the only source of knowledge", then the WIKUS team possesses a wealth of knowledge! WIKUS is grateful for veteran team members like Raul! Many thanks to Raul for his many years of dedicated service!