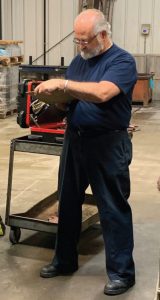 WIKUS offers "Arguably, the best product on the market". Based on Performance, Product Availability, Technical Support and Service. Our goal is to build a "Triangular" relationship between WIKUS, our distribution channel and the End-User. Earning their trust to achieve long term partnerships and continue growing our customer base. Exercising the added value we promote and providing cost effective solutions.
One of the added values WIKUS brings is our Tech Team. We are proud to have such an experienced group that takes pride in working together with our Sales Team, Distributors, and the saw operators, sharing their knowledge and helpful suggestions at the machine to dial in the right parameters for the application. Building a relationship and providing our support from day one. Always striving to increase your production at a lower cost per cut.
When an opportunity calls for that additional expertise to select the best blade based on the application and expectations of the customer, you can rely on the Tech Team to lead you in the right direction. Once the trial blades have been ordered a test date can be scheduled and coordinated. They are a great resource before, during and after the testing. Striving to build long term partnerships with those that rely on us for quality, consistency, and performance.
With that said, we ask that you take advantage of our added value when the opportunities present themselves. Let's add your next success story to our growing list. There's nothing we enjoy better than making chips.
Some of the things which our Tech Team provides:
Initial process assessment and product recommendation – investigate and evaluate specifically what materials the potential customer is cutting, what equipment is being used, its general condition, speed / feed capabilities, cutting fluids used, and potential capability to run performance enhancing product (if applicable). Also, what goals the customer is looking to achieve with WIKUS (i.e. – longer blade life, better finish, more thru-put) and what is currently being achieved. Then a recommendation is made, and testing can be scheduled.
Testing
A. Brief inspection of the saw (i.e.-tracking, alignment, tension, guides, etc.) to preclude blade failure due to mechanical issues.
B. Discuss the WIKUS Machine Inspection and Technical Support programs with the shop personnel.
C. Product is installed, break-in performed, cutting data is recorded, results are discussed.
Preventive Maintenance – Commonly referred to as a "Tune Up" or "PM"

A. Establish frequency based on higher volume customers and prioritize.
B. Service is limited to replacing guides, roller bearings, and making fine adjustments and minor realignments.
C. Incorporate Preventive Maintenance into a "hands on" training session on basic saw service for operators who may be required to perform minor preventative maintenance, as well as to maintenance personnel.
D. Remedial operator training at the machine, or in a classroom setting, for people who require documented formal training to comply with their own internal training policies.